Stores opening earlier in the morning for Black Friday this year
Posted:
Updated: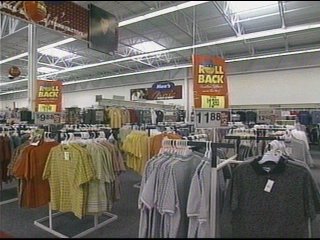 KENNEWICK, Wash.-- Black Friday is almost here, and you may have noticed new store hours for the biggest shopping day of the year. You typically think of shoppers starting at 5:00 and 6:00 a.m., but this year, it's a little different. Stores are opening as early as midnight, with sales starting as early as 3:00 a.m.
The earliest stores at the Columbia Center Mall in Kennewick open at 3:00 a.m. Those include Old Navy and Aeropostale. Then at 3:30, the first of the department stores opens, JCPenny. We talked to the Store Manager, Lee Boman, who doesn't think that's too early. He says, "I think they'd be here at 1:00 [if we opened then]. It's a party!"
Director of marketing for Columbia Center Mall, Kim Harvey, agrees. She explains, "Die hard Black Friday shoppers will always be there. It's a religion for them." She says opening earlier isn't new, it's just noticeable this year. "Stores have been opening a little earlier each year for the past several years."
Managers say customers want to come in as early as possible, so they don't miss any doorbusters. Harvey explains shoppers can do that this year with the staggered openings. She says, "You can make sure you're still first to get in all the stores, because if you really want that deal at Old Navy, you can get in there at 3:00. JCPenny is going to open at 3:30, so then you can head down there and keep it going, as Macy's opens at 5:00. Sears opens at 4:00, and we've got stores throughout the mall in between." If you want to see when other stores at Columbia Center Mall open, click here.
Wal-Mart is open earlier than ever too. Doors are open at midnight, but the sales don't start until 5:00 a.m. Many Toys-R-Us locations are open at midnight too.
Coffee shops are also starting the day earlier, because they know shoppers will need caffeine at that time in the morning. Mojo's Caffeine Express in Pasco is opening up at 3:30. Michelle Silvey, the owner, says, "It is very early, but after talking to customers, we realize that there are going to be a lot of people out there shopping that early in the morning." Starbucks opens at 4:00, as well as many other local coffee stands.