A touching letter from a featured Marine
Posted:
Updated: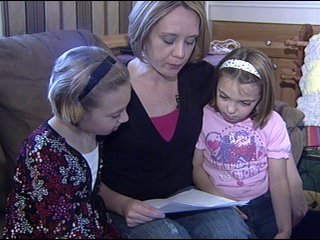 BENTON CITY, Wash.-- We get many emails every single day into our station, but it's not too often we get one as touching as the email from Staff Sergeant Herr. We brought the letter to his wife Jamie and her two children.
Here's what he wrote:
I would like to take a few moments to say, "THANK YOU" for
sharing that video, not just to the Yakima valley, but to others all
over the world. I posted the link on my Facebook page, and you could not
have imagined the replies I have received.

Family and friends from all over this world have now seen the
emotional struggles of those we leave behind when we deploy. Some of my
friends comments are, " Very nice story", " That is the nicest story but
it made me sad", " Thank you for sharing that Greg, that story is most
definitely humbling". I even sent the link to my Mom and Step-dad in
Cheney and they in return sent it to others. Sheriff Ozzie Knezovich,
Spokane Sheriff, a good friend of my Step-dad, that I have never meet,
commented and said, " Sometimes we forget that while one is serving,
their family is sharing that sacrifice."
The Sheriff hit it right on the head. Sure, going into harm's
way is dangerous and we might have to pay the ultimate sacrifice for it,
but we must not forget those back home who support us and are sharing
that sacrifice too.
This video was not easy for me to watch, I had some tears when I
watched it. That's a good thing though. And I know that others out there
had the same emotional struggle as me. Looking into the lives of the
Military family for a brief moment you realize, it's not an easy job. We
have a bumper sticker in the Marine that reads, "Marine Wife-Toughest
Job In The Marine Corps". That's so very true. Jamie has to be a mom, a
dad, a chauffeur, and everything else under the sun, while I am
deployed. That is not an easy task for anyone, to do let alone doing it
by yourself while your other half is half-way around the world fighting
for our freedoms and the possibility that I will never make it home.
Mr. Funk, thank you very much for you and your staff doing a
AWESOME story. It means a lot to everyone...but it means a lot more to
me since I get the opportunity to see my family back home and their
emotional struggles they go through day in and day out. Have a blessed
day.
Semper Fidelis,
Gregory Herr, SSgt, USMC
Bagram, Afghanistan