Sarah Palin does the Turkey Trot
Posted:
Updated: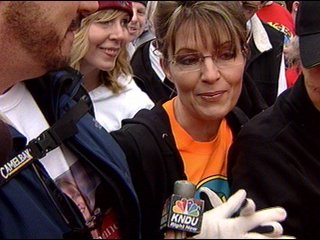 KENNEWICK, Wash. - In a developing story, there has been much talk leading up to this year's Turkey Trot and a lot of that is because Sarah Palin recently announced she was lacing up and taking part in the fundraiser for the Red Cross.
We had the chance to talk with her earlier today at the Sixth Annual Turkey Trot and she was full of energy. "This is so encouraging, nice warm reception. I should have expected it because it's the Tri-Cities, and amazing hospitable people live here, we love it," said Palin.
Sarah Palin was surrounded by hundreds including a handful of supporters from Alaska. The former Vice Presidential candidate has taken a few days off her nationwide book tour to spend her Thanksgiving weekend with family and friends. She has two aunts in town and deep roots in the Tri-City area. "It's awesome, of course we've spent so much time here over all these years. But it's really, really good to be back and just can't wait to hang out with more of the family and friends today and enjoy Thanksgiving dinner," said Palin.
Thanksgiving dinner was not the only thing to celebrate. The Red Cross had nearly 3,000 registered trotters. Several hundred of those was because of Sarah Palin. Her appearance helped bring in some big bucks for the non-profit organization. "She did increase participation which is great. It's a family event and we thank her for that, and we are raising money for the Red Cross," said Pat Mastler, event coordinator for the Red Cross.
The Turkey Trot fundraiser brought in over $45,000 dollars from donations and sponsors. Workers say it broke records.
Sarah Palin will be having a book signing at the Hastings in Richland this Sunday. The signing starts at noon.