Black Friday shoppers leave Best Buy in Yakima satisfied
Posted:
Updated: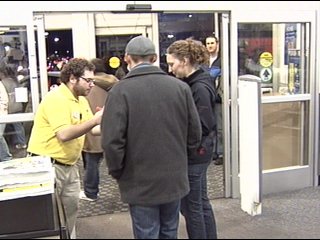 YAKIMA, Wash. - People stormed through the doors as Best Buy opened just after 5:00 a.m., one of the busiest places to be on Black Friday.
Ray Roff had been waiting since before noon on Thursday, camped out for almost 20 hours. He says it was worth it for a 15-inch HP laptop sold to a select few for under $200.
"If you want to save a good chunk of money, which I do," he said. "You know I can't normally afford a laptop for that price."
For shoppers like MaryLou Hudson, Black Friday was a new concept but she also walked away with a positive experience.
"This is the first time we've done this," she said. "My husband kind of thinks we're crazy but my daughter and I would do it again."
It was clear to both the customers and staff at Best Buy that more people showed up for the early morning savings this year.
Monte Neumeyer is the Yakima store manager. He says the line outside was longer than 2008, wrapping around the building.
"More crowds than last year, earlier," Neumeyer said. "Last year it was a little more steady, not so much of an influx in the morning. Pretty good crowd this morning."
By the time they were ready to open the doors, hundreds had joined Roff and the few who started the line on Thursday morning. Once customers started to enter, it would take 10 minutes to get everyone waiting outside to get into the store.
Shoppers like Amanda Acuff and Bruce Maeder say they made it through the long lines and early hours thanks to the buddy system. "
I can't imagine doing this by myself," said Maeder.
"No, I don't think I would come if I didn't have someone to come with," said Acuff.
They say they enjoyed what is becoming a tradition for them and tell the Black Friday's critics that they are missing the point.
"Get over yourself, it's fun," said Maeder. "It's an adventure, like have some Starbucks, get caffeinated and enjoy your day."
"We don't take it too seriously, I don't think," added Acuff "We're just out to spend time with each other to kind of check out the crowd and celebrate the holidays."
Best Buy had 140 employees staffed throughout the day, 80 more than on a normal day. They expected around 10,000 customers to walk through before they closed on Black Friday, only the start of the holiday shopping season.