Filling the rig with food
Posted:
Updated: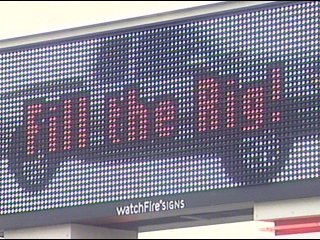 Kennewick, WASH - The KNDU Family Food Drive is this Saturday and Tri-City businesses are busy this week collecting all the donations they can. There is even one place that plans to deliver a whole truck-load of food to KNDU's parking lot this weekend.
"We have some extremely reliable customers. They will be here with bags or boxes of food. It happens every time," explains Scott Meyers, Owner of Meyers' Auto Tech in Kennewick.
This is the fourth year Scott and his wife Jessica Meyers have had their "Fill the Rig" event.
"The community has been fantastic to us over the years and to give a small thing back is just really a nice feeling," says Scott.
Again this year they planned to deliver a full truck load of donated food from them and their customers to the KNDU Family Food Drive, Saturday December 5th. However, they say this year is a little different than others.
"Times are little bit harder. We can even see that in our business. Business is a little bit down. Folks can't spend as much. They're trying to be really careful. So this year I think the need is greater than ever," explains Scott.
In past food drives they have come close to filling up the truck completely. This time they think it can happen if everyone works together.
"I'm afraid that there is a kind of perception where folks think they need to bring this giant bag of food and they don't. If everybody could bring just a little bit, a can or two is wonderful," says Scott.
Staff at Meyers' Auto Tech in Kennewick will continue to collect food donations all week to fill their rig. They are near the corner of Canal and Edison on Grant Place. Open from 7:30 AM to 5:30 PM during the week.