Unconditional love for Hermiston
Posted:
Updated: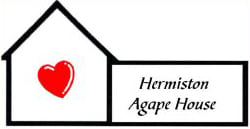 Hermiston, OR - The KNDU Family Food Drive is just days away. Food from the Hermiston area has always been a part of that, but this year is a bit different. Donations will be going straight to Agape House, a food bank in Hermiston for over 20 years.
"I depend on this every now and then just to get me through. I don't take advantage of it if we're doing okay for a month, we'll get by. It's only in times of real need." explains Lorrie as she carries out bags of food from the Agape House warehouse.
According to staff, one out of five people in Umatilla and eastern Morrow Counties will come in at least once a year asking for help.
"We give unconditionally, we don't require anything back from the people who come and see us. They can just share with us what they need and we'll try to help," says Dave Hughes, Agape House Executive Director.
'Agape' is a Greek word that means unconditional love.
Agape House wouldn't be able to help people like Lorrie if it wasn't for local businesses like Tom Denchel Ford and Fiesta Foods working with KNDU's Family Food Drive.
"I've been in business for over 25 years and every year has been a good year for Tom Denchel Ford and it's up to us to give back from what we've received," explains Denchel.
Hermiston's Fiesta Foods chips in with grocery bags filled with 11 pounds worth of food, which a customer can buy for five dollars.
"Anything we can do to help during the holidays, that's very important," says Adrian Filippi, a Fiesta Food staff member.
Agape House staff say continued support like this will keep their shelves stocked for years to come.
Again, food donated to the KNDU Family Food Drive that was collected in Hermiston will stay in Hermiston and go to Agape House.
In the Tri-Cities area it goes to Second Harvest. If you to want to take part you can donate food, Toys for Tots or Coats for Kids this Saturday December 5th, from 8 AM to 12 PM at our KNDU Studios located at 3312 West Kennewick Avenue in Kennewick.