Northwest Harvest depending on community donations this Saturday
Posted:
Updated: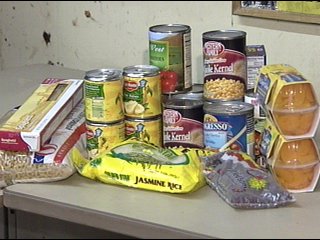 YAKIMA, Wash. – Northwest Harvest is once again depending on the community to help keep local food banks stocked as KNDO-TV's Family Food Drive approaches this Saturday.
"We certainly appreciate the community's support," said Yakima Warehouse Manager Lisa Hall. They've done a great job in the past of giving us wonderful donations."
Northwest Harvest gave out more than 400,000 pounds of food across Central Washington last month. But with less than three weeks until Christmas, food banks are reporting shortages and record lines.
Rosemary Rief is the communications coordinator for the group in Yakima. She says there is always a high demand around the holidays.
"We have an increase at the lines at our local food banks so winter months we have more people needing food, more people experiencing food insecurity," said Rief.
Food and cash donations will be accepted at the Family Food Drive. One of the advantages of contributing money is that Northwest Harvest can stretch your dollar farther than if you were to buy food on your own.
"We have the buying power through a procurement agent and so forth where we can get buys you and I can't get at the grocery store," said Hall. "We can buy a lot more because we're buying in such large quantities."
For example, if you spent $5 at the supermarket, you are likely going to walk out with a few canned food items. But if you donate that same amount to Northwest Harvest, they can bring in 25 pounds of food. That quantity is likely to cost you around $20 at the store. Regardless of what you donate to the group, Northwest Harvest says you should rest assured that your contributions stay local.
"They go away with the feeling that my contribution is going to help my neighbors," said Rief. "Here in Central Washington, here in the Yakima Valley."
Donations made at the food drive will arrive in bins at Northwest Harvest the following Monday. Most will be boxed by Wednesday and handed out at food banks by the end of that week.
The KNDO Family Food Drive is Saturday, Dec. 5 from 8:00 a.m. to 12:00 p.m. at the station parking lot. You can bring cash and food donations as well as coats for kids and toys for tots that day. KNDO-TV is located at 1608 S. 24th Ave in Yakima.