Weekend lunch program keeps students nourished and ready to learn
Posted:
Updated: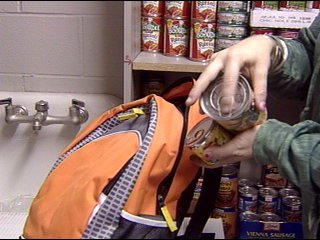 YAKIMA, Wash. -- Public school is a safe haven for many Yakima children and for far too many it's their only opportunity for a meal. We're being told some students go all weekend without food.
But, there's a new program that's sending food home with elementary aged students, making sure they're able to survive and ready to learn. Lunch time, children at Martin Luther King elementary flock to the cafeteria, where 93% of the children qualify for free or reduced price lunch's.
Principal Phil Vasquez had an "aha" moment while dealing with a problem student, "I was opening my fridge, I said would you like a juice and he said I'll take a juice, I handed him the juice, he stuck the straw in it and inhaled it," said Vasquez.
It was a Monday, the student had gone without food all weekend, two straight days. So the school has teamed up with Northwest Harvest to send backpacks full of food home with needy students. The program's called Three Squared.
"You know we're trying to make a balanced meal here so we'd do some cans of fruit and see this is all stuff they can open easily you don't need to have a can opener at home," said Heidi Mann, paraeducator, as she stuffed backpacks.
Around a dozen of the schools neediest children are picked by the school counselor, they are pulled out of class discreetly on Fridays and sent home with a backpack full of food.
"Zip zip...I'm sure that's all the kid can carry," said Mann.
The other students are none the wiser, while the students with food backpacks will have food to last until Monday.
"It's hard to get kids to learn if they are worried about survival, they can't understand or learn if they're hungry if all they have is hunger pains," said Vasquez.
So far the programs been helping Vasquez said the number of repeat offenders for behavioral problems has been cut in half. But, the need is still great currently there's only enough food to sustain a hand full of kids and Vasquez said the vast majority of his students go hungry on the weekends.