Kittitas County Public Health making a sweep of schools with H1N1 vaccinations
Posted:
Updated: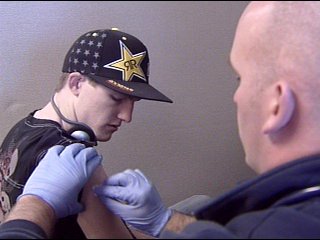 KITTITAS, Wash. -- Kittitas County Public Health is making a vaccination sweep of all schools in the county, that includes Cle Elum/Rosalyn, Kittitas and Ellensburg school districts.
At Kittitas Secondary School 96 students were vaccinated Monday for H1N1 influenza. The health district said the paperwork is the most painful part.
"They all are nervous before they get their shot and you can hear them all kind rousing each other up back in forth and everybody saying you feel like a man today, let's see how manly you really are. Some people have expressed anxiety, but once they get to the vaccination the vaccinators are so good most will say they barely even felt the shot, so that's nice," said Tiffany Beardsly, public health nurse.
Younger students receive the nasal spray, older students the injection. So far the health district has vaccinated over 1,000 students.
Kittitas senior Travis Santger knows people who've had the flu and he didn't want to go through that.
"I would've still taken the vaccination, no matter how I had to take it, I mean if I had to buy it or not," said Santger.
But, like most teenagers convenience is important.
"It's kind of nice that I can get it at school and not go anywhere and pay for gas," said Santger.
For the health district in school vaccination clinics are one of the easiest ways to vaccinate one of the largest priority groups, kids. Schools are also breading grounds for germs, colds and the flu. Not only does H1N1 have potential for serious complications it's highly contagious.
"So when they have been testing they've found that about 99% of the flu's this season have been H1N1 because it's so contagious," said Beardsly.
After students receive their vaccination they're sent to a vacant classroom to wait for 15 minutes, paramedics are on hand to observe the kids and make sure it's safe for them to go back to class.
Vaccinations are free and optional, anywhere from 1/3 to half of the students at any given school will get vaccinated, minors must have written parent approval.
The next clinic will be Ellensburg High School on December 15th.