Shop online and help a local non-profit organization
Posted:
Updated: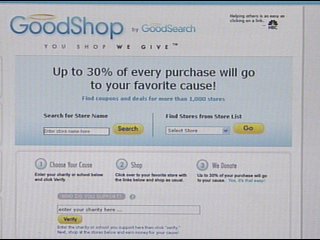 As you shop online for holiday gifts, you can also be helping out a local non profit charity or school, all thanks to a website called GoodShop.
GoodShop has over one thousand stores represented on their site. Stores ranging from Expedia, to North Face to Bloomingdales.
Here's how it works, anytime you buy from a store via GoodShop's site, up to 30% of your purchase goes to your charity or school of choice.
There are over 85,000 organizations to chose from and that number is growing everyday.
With a program like this, you can imagine that success depends largely on word of mouth.
A non-profit group in Yakima, called Dispute Resolution Center of Yakima and Kittitas Counties has been part of GoodShop for about a year. They say word is getting out.
Matt Fairbank, the Executive Director of Dispute Resolution Center says, "We started slow but we kind of finished with a flourish, so we ended up with a total contribution of about $30. GoodSearch/GoodShop website spoke recently about the number of organizations that have received over $1,000, increased dramatically this year as people became more aware. we're hoping to be one of those thousand dollars or more recipients next year."
GoodShop is part of GoodSearch, a search engine powered by Yahoo! Every time you use GoodSearch for an internet search, part of their ad revenue goes to your charity of choice.
They have a list of all the organizations and if you want to be part of it, it's easy, just click on their "add a new charity or school" box at the bottom of their website. Click here to visit the GoodShop website.