Number of holiday seasonal jobs down compared to last year
Posted:
Updated: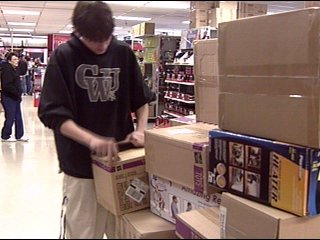 UNION GAP, Wash. -- We're just two weeks to Christmas, which means local retailers are busy with holiday shoppers. But, are retailers hiring as many seasonal workers as usual?
"Without the seasonal employees there's no way we could survive, there's no way the customer would survive, there's no way the story could survive," said Troy Larson, general manager, Sears.
Local retailers like Sears hire on seasonal workers every year, but corporate dictates how many people local stores can hire.
During the holiday season Sears hires 25% more employees for seasonal work. The retailer sees a 40% jump in sales during these busy months.
Stats from Yakima's WorkSource put seasonal ememploymentown 41% this year. Bad news for first time job seekers, but good news for retailers.
"Well last year unemployment rate for December was 9.3%, this year we anticipate it to be a that rate or a little bit higher," said Sondra Pieti, administrator WorkSource Yakima.

"So we were able to get the pick of the crop this year as far as people seeking jobs we were able to collect some really intelligent, quick learning associates," said Larson.
Larson said in years past he hired first time workers, now he's hiring people with more experience, which in turn means better customer service.
Larson hired 27 seasonal employees this year, they'll work from September to December 31st.
Pieti said the holiday work ends just in time for when agricultural work picks-up again.
WorkSource leaders say new businesses also help fight the high unemployment rate. The new restaurant Bob's Burgers and Brew hired 100 people for their opening and the holiday season.