Homeless community tries to find shelter in freezing weather
Posted:
Updated: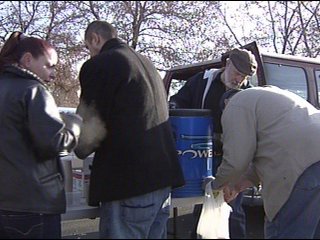 YAKIMA, Wash.- Eight-degree temperatures in Yakima Friday morning didn't stop the homeless and unemployed from standing outside.
"It's freezing, its freezing right now this coffee, you know, it might save a life," said Leon Johnson, who lives in Yakima.
They stood around enjoying warm coffee and taking bags of food. For many, this will last them several days.
"Some people haven't eaten in a few days, it's surprising that in the U.S. people are hungry like this but they are,"
These donations are from the Sunrise Outreach Program. Volunteers go out and make sure needy people get the basics. In Yakima, there are several hundreds of hungry families who can't afford to buy food.
"Don't have food stamps right now so it helps me a lot and it probably helps others too," Roma Francis, who lives in Yakima.
Food is not the only issue. These people need a place to stay. Executive Director Dave Hanson says four emergency shelters help meet that need.
"Standing out in the cold for more than five minutes its misery more than anything else I can't imagine how they stay out in cold all day," said Hanson.
The executive director says the need for housing is so high they reopened the Vineyard Shelter Thursday night.
"Couple of them are full, couple of them are not quite full in fact the women's shelter is still not being used very much at all were a little concerned," said Hanson.
Hanson says women and children can get emergency shelter by showing up to the Yakima Transit Center everyday at 5 p.m. Men should show up at 5:30.
If you want to stay at the Yakima shelters or want to volunteer and have more questions, contact Dave Hanson at the Sunrise Outreach program.