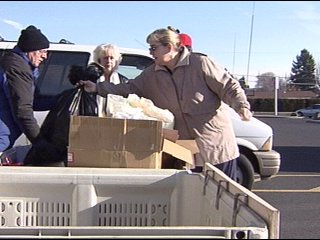 YAKIMA--Your time to donate to Operation Tin Cup is almost over.
This box has been Dale Carpenter's home since Thursday.
He's living out in front of the Wray's Thriftway on 56th and Summitview until 1:34 p.m. Monday. His goal is to raise donations and awareness for people in need.
While this year has been colder than the past few years, Dale is committed to finishing strong.
"[I just] stay focused, know that I have a finish line where the people that are in need don't know when that help's going to come," Carpenter said. "I know at 1:34 p.m. I'm going home and taking a nice hot bath!"
Carpenter said the community has already donated more money, food, clothes and toys than in 2008.
The "Tin Cup" in Operation Tin Cup stands for *Those In Need, Can You Pitch in.*
If you want to help ... Dale will be at the Wray's until 1:34 p.m. Monday.