Acting Code Manager shuts down one building at the Tourist Motel
Posted:
Updated: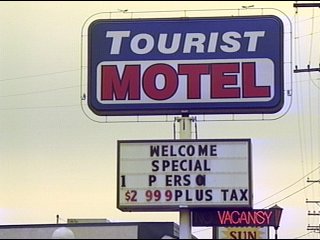 YAKIMA, Wash. -- It's known for prostitution and drugs, but that's not what's shutting down the Tourist Motel on North First street.
"HHallelujahpraise the lord, this place, the owner had to know what's going on," said Henry Pakootas, volunteer, the Union Gospel Mission.
What's going on at the Tourist Motel? Well, plenty of illegal activities, police know the place all too well for drugs and prostitution, but City Code couldn't just shut it down for that.
What they can shut-it down for is asbestos, dangerous levels tested in a popcorn type cycling. Acting Code Manager Joe Caruso shut-down one of the three buildings at the motel Monday morning.
And when City Code shuts down a building they mean it, anyone caught trespassing will be arrested immediately, if someone is caught in the building than the city will have to board up all the windows.
"So these buildings...the other two out buildings, have violations, but they're not to the point where we have to shut them down," said Caruso.
Complaints from neighbors and concerned citizens have put the heat on Yakima City Council. Caruso brought in multiple agencies looking for leglegitimateasons to shut the place down.
But, he doesn't want to just condcondemn building that would burden the city with another empty property.
"The ownership here is kind of convoluted we're trying to find the real owner we have multiple names and out cit legal is trying to locate that," said Caruso.
The owner, whoever that may be, has until the end of December to bring the other buildings up to complcompliancech is not going to be an easy task.
"If you stepped into some of these room 30 bucks a night, you get what you pay for ma'am," said Pakootas.
Caruso said the buildings are so far off code it may cost more than what they are worth to meet complicompliancet's likely the buildings will come down eventually.
Six people lived in the building that was shut down, four were short term. The other two people moved into the open apartments on the property.