Fever's 2010 Schedule Released
Posted:
Updated: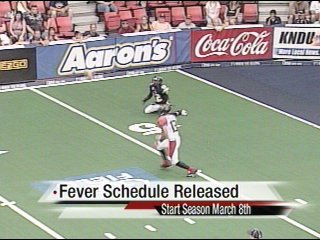 KENNEWICK, Wash. -- Are you ready for some football: Tri-Cities Fever style?
The Fever's 2010 schedule is out. They start their season March 8th at Fairbanks.
They play their in-state rivals, the Kent Rampage, 4 times starting Saturday, March 20th.
They finish their 14-game season June 19th at Billings.
Below is a List of the Divisions and Complete Indoor Football League Schedule:
UNITED CONFERENCE
Atlantic East Division
Maryland
Richmond
Rochester
West Michigan
Central North Division
Bloomington
Chicago
Green Bay
La Crosse
Central West Division
Colorado
Omaha
Sioux City
Sioux falls
Wichita
INTENSE CONFERENCE
Pacific North Division
Alaska
Billings
Fairbanks
Kent
Tri-Cities
Lonestar West Division
Abilene
Amarillo
El Paso
Odessa
Lonestar East Division
Arkansas
Austin
Corpus Christi
San Angelo
Traditional IFL rival games and what are sure to be new geographic rivalries are highlighted throughout this 182 game season which begins on Friday, February 26th and concludes on Saturday, June 19th. Teams from Alaska to Washington DC will take to the turf for the IFL's second season of play. The league was created in 2008 as a product of the Intense Football League Merging with the United Indoor Football Association and played with 19 teams in 2009. "We are pleased to once again be the first league in our industry to publish the upcoming schedule and anticipate a tremendous season ahead", stated commissioner Tommy Benizio, "The schedule committee and Arthur Steiker from Bortz Sports have done a wonderful job on getting this completed."
* * * WEEK 1 * * *
Fri. Feb. 26 Maryland at Grand Rapids
Sat. Feb. 27 Rochester at Chicago
La Crosse at Wichita
Sioux City at Colorado
Sun. Feb. 28 Odessa at Corpus Christi
Kent at Billings
Fairbanks at Alaska
* * * WEEK 2 * * *
Fri. Mar. 5 Billings at Colorado
Sat. Mar. 6 Richmond at Bloomington
Green Bay at Sioux City
Sioux Falls at Omaha
Austin at Abilene
Mon. Mar. 8 Kent at Alaska
Tri Cities at Fairbanks
* * * WEEK 3 * * *
Fri. Mar. 12 San Angelo at Arkansas
Fairbanks at Kent
Sat. Mar. 13 Chicago at Richmond
Green Bay at Bloomington
Sioux City at Omaha
Sioux Falls at Wichita
Abilene at Odessa
Sun. Mar. 14 Austin at Corpus Christi
Amarillo at El Paso
Tri Cities at Billings
* * * WEEK 4 * * *
Fri. Mar. 19 La Crosse at Green Bay
Sat. Mar. 20 Grand Rapids at Rochester
Maryland at Richmond
Colorado at Wichita
Corpus Christ at Arkansas
Amarillo at Abilene
Kent at Tri Cities
Alaska at Fairbanks
Sun. Mar. 21 Bloomington at Chicago
Austin at El Paso
Mon. Mar. 22 Billings at Sioux Falls
* * * WEEK 5 * * *
Fri. Mar. 26 Rochester at Grand Rapids
Bloomington at Green Bay
Sat. Mar. 27 Alaska at Chicago
Colorado at Sioux City
Austin at Arkansas
San Angelo at Amarillo
Abilene at El Paso
Sun. Mar. 28 La Crosse at Sioux Falls
Mon. Mar. 29 Wichita at Omaha
Corpus Christ at Odessa
* * * WEEK 6 * * *
Thu. Apr. 1 Fairbanks at Alaska
Sat. Apr. 3 Richmond at Rochester
Green Bay at Maryland
Omaha at La Crosse
Wichita at Sioux Falls
Amarillo at Arkansas
Abilene at San Angelo
El Paso at Corpus Christi
* * * WEEK 7 * * *
Fri. Apr. 9 Alaska at Kent
Sat. Apr. 10 Rochester at Maryland
Grand Rapids at Richmond
Chicago at Bloomington
Sioux Falls at Sioux City
Omaha at Wichita
Abilene at Austin
Odessa at San Angelo
Corpus Christ at Amarillo
Arkansas at El Paso
Fairbanks at Tri Cities
Sun. Apr. 11 Green Bay at La Crosse
Colorado at Billings
* * * WEEK 8 * * *
Sat. Apr. 17 Green Bay at Grand Rapids
Maryland at Bloomington
Sioux Falls at Wichita
Arkansas at Abilene
Amarillo at Odessa
Alaska at Billings
Sun. Apr. 18 Richmond at Rochester
Sioux City at La Crosse
Omaha at Colorado
San Angelo at El Paso
Tri Cities at Kent
* * * WEEK 9 * * *
Fri. Apr. 23 Bloomington at Rochester
Grand Rapids at La Crosse
Sat. Apr. 24 Maryland at Richmond
Kent at Chicago
Omaha at Green Bay
Odessa at Abilene
Arkansas at San Angelo
Austin at Amarillo
Billings at Tri Cities
Alaska at Fairbanks
Sun. Apr. 25 Corpus Christ at El Paso
* * * WEEK 10 * * *
Fri. Apr. 30 Chicago at La Crosse
Billings at Kent
Sat. May 1 Rochester at Maryland
Richmond at Grand Rapids
Wichita at Sioux City
Colorado at Sioux Falls
Bloomington at Omaha
Odessa at Arkansas
El Paso at Austin
San Angelo at Corpus Christi
Alaska at Tri Cities
* * * WEEK 11 * * *
Fri. May 7 Rochester at Grand Rapids
Sat. May 8 Richmond at Maryland
La Crosse at Bloomington
Chicago at Green Bay
Sioux Falls at Sioux City
Abilene at Arkansas
Odessa at Austin
El Paso at San Angelo
Amarillo at Corpus Christi
Fairbanks at Billings
Kent at Tri Cities
Sun. May 9 Wichita at Colorado
* * * WEEK 12 * * *
Fri. May 14 Fairbanks at Kent
Sat. May 15 Maryland at Rochester
Richmond at Grand Rapids
Chicago at Bloomington
Wichita at Sioux City
Omaha at Sioux Falls
Tri Cities at Colorado
San Angelo at Abilene
Corpus Christ at Austin
El Paso at Amarillo
Arkansas at Odessa
Sun. May 16 Billings at Alaska
* * * WEEK 13 * * *
Fri. May 21 Bloomington at La Crosse
Sat. May 22 Rochester at Richmond
Maryland at Grand Rapids
Green Bay at Chicago
Sioux City at Omaha
Colorado at Wichita
Corpus Christ at Abilene
San Angelo at Austin
Arkansas at Amarillo
Billings at Fairbanks
Sun. May 23 Odessa at El Paso
Tri Cities at Alaska
* * * WEEK 14 * * *
Fri. May 28 Grand Rapids at Chicago
Sat. May 29 Maryland at Rochester
Green Bay at Richmond
Omaha at Sioux Falls
Sioux City at Colorado
El Paso at Abilene
Amarillo at Austin
Arkansas at Corpus Christi
San Angelo at Odessa
Fairbanks at Tri Cities
Billings at Kent
Sun. May 30 La Crosse at Alaska
* * * WEEK 15 * * *
Fri. Jun. 4 El Paso at Arkansas
Tri Cities at Kent
Sat. Jun. 5 Chicago at Rochester
Grand Rapids at Bloomington
Wichita at Green Bay
Omaha at Sioux City
Sioux Falls at Colorado
Austin at San Angelo
Odessa at Amarillo
La Crosse at Fairbanks
Sun. Jun. 6 Richmond at Maryland
Abilene at Corpus Christi
* * * WEEK 16 * * *
Sat. Jun. 12 Rochester at Richmond
La Crosse at Chicago
Grand Rapids at Green Bay
Colorado at Omaha
Sioux City at Wichita
Corpus Christ at San Angelo
Abilene at Amarillo
Austin at Odessa
Sioux Falls at Billings
Alaska at Tri Cities
Kent at Fairbanks
Sun. Jun. 13 Bloomington at Maryland
* * * WEEK 17 * * *
Sat. Jun. 19 Grand Rapids at Maryland
Chicago at Green Bay
Bloomington at La Crosse
Sioux City at Sioux Falls
Wichita at Omaha
Arkansas at Austin
Amarillo at San Angelo
El Paso at Odessa
Tri Cities at Billings
Kent at Alaska
Colorado at Fairbanks