State Troopers respond to 90 accidents in Yakima County
Posted:
Updated: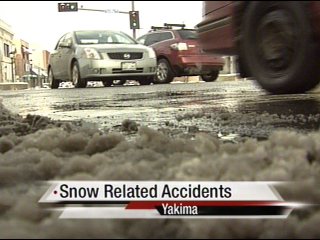 YAKIMA, Wash.- Washington State Troopers respond to more than 90 accidents in 24 hours in Yakima County. State troopers say safety is a concern.
Safe driving won't just prevent an accident it could save you hundreds of dollars in fines.
"Folks are getting impatient, they're keeping their speed up and they're crashing so what we need folks is to understand we're in winter weather season and they need to slow down," said Sergeant Ed McAvoy from Washington State Patrols.
Troopers stayed busy patrolling. They say the numbers of accidents are down from Tuesday. To be safe, one driver told me she stuck to city roads but she's not surprised by all the highway accidents.
"It's probably just about usual for the first snowfall, unfortunately," said Deb Harvey, who lives in Yakima.
And with these road conditions, following a safe speed is sometime better than the posted speed, driving too fast could cost you.
"If we see someone driving too fast for condition even if they don't crash but they look like they might crash you bet they'll be stopped and cited," said Sgt. McAvoy.
That fine is $175 for speeding in unsafe condition. State Troopers say slow down and plan ahead because with these slippery roads, you never know.
"A lot of folks were caught unprepared or ill-prepared for weather conditions from car equipment to not slowing down,"
Some of the recent accidents did involve injuries, mostly minor ones. State Troopers want to remind everyone to always buckle your seat belt.