Suspect in Mattawa triple homicide in police custody; also linked to several robberies
Posted:
Updated: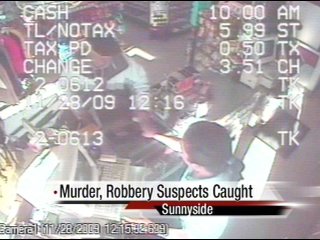 SUNNYSIDE--The suspect in Monday's triple homicide in Mattawa in police custody, behind bars Wednesday night.
J. Guadalupe Martinez-Lopez is being held in the Grant County Jail. He's accused of murdering three men.
Police caught Martinez-Lopez at El Valle Restaurant in Sunnyside Tuesday evening.
Police believe Martinez-Lopez isn't just the triple homicide suspect; authorities also believe he's involved in a string of robberies in Sunnyside, Pasco, and Basin City.
Earlier this week, police released surveillance video from a couple of those robberies.
Martinez-Lopez was picked up at the El Valle Restaurant on Yakima Valley Highway after another robbery nearby at Hiway Fruit.
With help from restaurant employees, Washington State Patrol, the FBI, Granger and Grandview Police, Sunnyside Police took Martinez-Lopez in without a fight.
Police KNDO spoke with weren't sure where the tip came from, but it turned out to be reliable.
"When we did receive information that the suspects might be in the Sunnyside area, we acted upon it quickly with help from surrounding agencies," Charlotte Hinderlider, Sunnyside Police Department, said.
Martinez-Lopez was taken to the Grant County Jail in Ephrata.
The Grant County Sheriff's Office hasn't announced what charges he'll face there. He will be charged with two counts of robbery in Sunnyside.
The Grant County Coroner's Office said they have tentatively identified the three Hispanic men killed Monday night, but their identities have not yet been confirmed.
Add it all up and police think Martinez-Lopez is behind three murders and up to five robberies in three different counties.