'Tis the season for shipping
Posted:
Updated: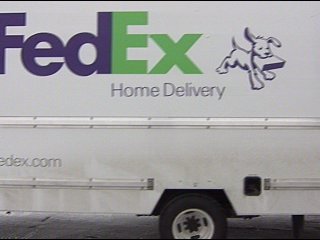 UNION GAP--As Christmas nears, the busiest shipping week of the year wraps up. KNDO's Nick Paradise tagged along with two FedEx contractors as they delivered packages as Santa's substitutes.
While it's not quite silver bells at the FedEx warehouse, 'tis the season to be busy. Twelve-hour work days become the norm for contractor Ignacio Perez.
"Everyday we're having like three trailers, four trailers [come in]," Perez said. He operates as an independent contractor. "It's kind of busy."
Those trailers are loaded with boxes. Warehouse Senior Manager Wendell Brown says roughly three to four thousand packages arrive in Union Gap each day, with another thousand being sent out.
Ignacio has to deck his truck's halls properly for a speedy trip.
"My first stops should be here," Perez said, motioning to shelves directly behind the truck's passenger seat. "Then, we follow through [to the back] as the shelves go through the other end."
He'll get close to 200 packages in the truck, depending on their size. Ignacio works in tandem with his wife Elsa.
For them, this is a family affair.
"I'm always there for him and watching him and helping him," Elsa Perez said.
Unfortunately, like most people this time of year, they've got a little bit of added stress.
Normally Ignacio and Elsa ride together and deliver packages together. But, during the Christmas season, they're so busy and have got so many packages to deliver, they rent a second truck and split up.
The winter wonderland that is Yakima makes their job even more difficult.
Apparently, dashing through the snow slows down deliveries.
"So it's not the boxes that we have, it's just the weather that doesn't help at all. But we'll work it out."
But, playing Santa has its rewards.
"Sometimes people get excited to see the box and they, sometimes, they tell us what they ordered and we get into a conversation with them."
The Perezes deliver to Yakima, East Selah, Terrace Heights and Moxee.
Along with ten other FedEx contractors they will bring gifts--and hopefully a merry little Christmas--to more than 20,000 homes in the days before December 25.