Hospitalized Highland student is slowly recovering, family raises money
Posted:
Updated: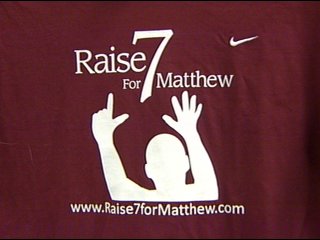 YAKIMA, Wash.- Matthew Newman was quarterback for the Highland Scotties until he was knocked unconscious during a football game. His concussion lead to serious brain injuries.
"He was totally healthy, right here at school during a football game, a game he loved and still loves even after what he's been through, and in seconds his life changed," said Michelle Martin, his aunt.
Matthew has been living in the hospital for over three months. This is a picture of Matthew and his cousin Ryan. Growing up, they did everything together and Ryan says it's been tough seeing Matthew go through this.
"It could have been anyone, it was a bad accident, people just need to be aware and know it could happen again," said Ryan Martin.
To help Matthew and his family pay for his recovery, students and friends are selling t-shirts shirts asking people to raise seven for Matthew.
"Matthew's jersey number was seven so if you get inspired, and you're at a basketball game or anywhere just raise seven for Matthew to show you're support and let others know you're thinking of him," said Olivia Newman, Matthew's cousin.
From the Highland Scotties to other teams around the region, students are wearing his number, raising awareness on sports safety.
"We really need to rethink when we're signing those waivers, we need to make sure things like this don't happen again on any fields, basketball or tennis courts," said Martin.
Matthew's family says he's doing much better. He walked on Friday. While Matthew doesn't know when he'll be leaving the hospital, the community's support is keeping Matthew and his family strong.