The gift of a Christmas tree helps local families
Posted:
Updated: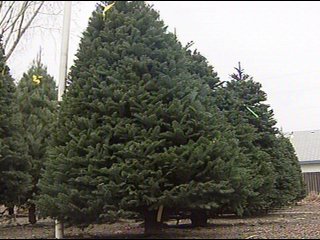 The spirit of giving has reached one man again this year. Last year Steve Osmonson gave away Christmas trees to families in need, and this year he's back, hoping to contribute even more.
Steve says it all started when he and his family couldn't afford a merry Christmas years ago. In fact, they were not able to get a tree. Things are better for the Osmonson family now, but those memories are still fresh in Steve's mind, and last year, he decided to do something about it and bring joy to families in need.

Several days before Christmas he gave away free Christmas trees. After seeing the look on the faces of people he helped, he says he became addicted, and quickly decided to make it a holiday tradition.
"A great thing about all of the things people are doing around here, such as putting gifts under trees, is wonderful, but a lot of people don't realize some don't have trees," Steve Osmonson said.
This year Steve says he plans to give more to the community after realizing many people don't have tree stands, toys, or even diapers for their children; however, he also needs your help. If you want to donate to help make a difference for one family you can call Steve or drop donations off at his house.
*Steve Osmonson Contact Information:
Phone: 509-460-7628
Address:
5612 W. 11th Ave, Creekstone, WA.
--story filed by Hilary Whittier. If you have story ideas please email her at Hilary.Whittier@KNDU.com