Spike in DUI's over holiday weekend
Posted:
Updated: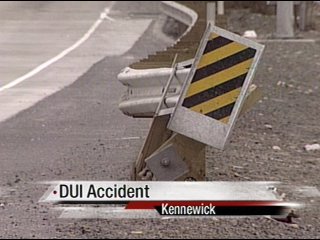 KENNEWICK, Wash;-- Holiday's are always a time when police are watching the roads for drunk drivers and this Christmas weekend is no exception.
Washington State Patrol says an accident early this morning is another example of what drinking and driving can create
Police say 29-year old Angel Ortega from Pasco lost control near the Blue Bridge and hit a nearby light pole. After the 94 Mazda Protege hit the pole it rolled on it's side, trapping the driver's arm under the car. There were two other passengers in the Mazda but they were not injured and no other cars were involved.

Police booked Ortega at Benton County Jail for DUI and driving with a suspended licence.
State Patrol reports it was one of six DUI's around the area since Christmas Eve.
"People that drive intoxicated don't really realize they're putting my family, your family, and everybody else's family in jeopardy," Benton County Deputy David Hughes said. "They think they're OK because they've had a few drinks, but they still need to find a ride or stay where they are."
Deputy Hughes says if you get pulled over and are affected by alcohol, they still have the right to issue a DUI, even if you're blood alcohol level is under .08. Moreover, people need to plan a ride a head of time or call a taxi if they plan to drink, especially with New Year's celebrations right around the corner.
--Hilary Whittier. If you have any story ideas please email Hilary.Whittier@KNDU.com