Extra security put in place for flights
Posted:
Updated: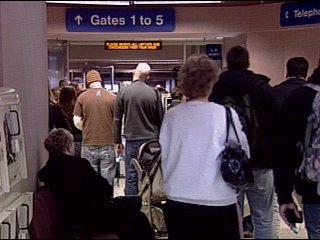 PASCO, Wash;-- With the recent attempted terrorist attack on a Northwest Airlines flight from Amsterdam to Detroit, many here in the Tri-Cities are left wondering if they should expect changes when flying.
Around the world more security screening measures have been implemented. The Transportation Security Administration's web site explains security will be tighter for the time being. They are working closely with federal, state, and local law enforcement on adding additional security checks, and people are seeing those effects here in the Tri-Cities as they wait in long lines before heading through security.
Many travelers say they are a little nervous to fly and welcome the extra precautions.
"I appreciate it," Beverlee Murdock who is flying back home after the holidays said. "It's worth the wait. Hopefully they'll catch the idiots before they get on board."
TSA says people should continue their planned holiday travel and, as always, be observant and aware of their surroundings and report any suspicious behavior or activity to law enforcement officials.
Passengers flying from international locations to U.S. destinations may notice additional security measures in place. These measures are designed to be unpredictable, so passengers should not expect to see the same thing everywhere. Due to the busy holiday travel season, both domestic and international travelers should allot extra time for check-in.
--Hilary Whittier. If you have a story idea please email Hilary.Whittier@KNDU.com