Four suspects arrested after a SWAT stand off outside a Selah home
Posted:
Updated: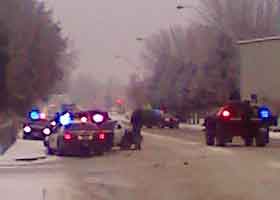 SELAH, Wash.- Four robbery suspects are under arrest after Police and SWAT caught them in Selah Wednesday morning. It all happened after the suspects allegedly robbed a convenience store near Union Gap.
Wednesday was not a typical day for Selah neighbors. People woke up to this, swat teams loading their guns and officers surrounding a white house on North Wenas Road.
"Selah is a pretty quiet town you don't really have a lot of blockades and bomb squads driving down the road especially at 9 o'clock in the morning," said Heather Ingram who lives in Selah.
SWAT and officers showed up before 6 a.m. looking for three suspects possibly involved in an early morning armed robbery near union gap. Officers got a tip that the suspects were hiding inside a house.
"I was standing out in the middle of the road wondering what was going on we asked the cops and they said they're catching bad guys," said Ingram.
Officers say the suspects walked into Coco's convenience store with machetes in hand, demanding cash. Instead, the employee turned a gun on him and called 9-1-1. One suspect was caught, the others fled to Selah.
"The occupants have since surrendered due to some persuasion methods so we've taken two additional males and one female into custody," said Captain Jeff Schneider from the Yakima Police Department.
While the suspects don't have an established history, officers say they may have a connection to recent activity.
"We think they may be involved in several robberies that have occurred over the last few days in the Yakima and Selah area," said Cpt. Schneider.
Officers say SWAT responded to this search to safely get the three armed suspects out of the house. All four suspects are in custody and will be booked into the Yakima County Jail.