14th District representative ready for 2010 legislative session
Posted:
Updated: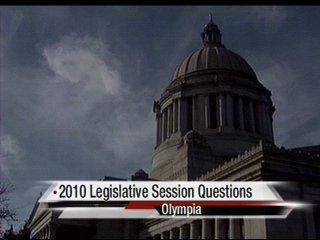 YAKIMA--The 2010 legislative session begins in eight days, and there are a lot of questions that need answering.
State Representative Norm Johnson (Republican, 14th District) believes the state legislature will have to bridge a budget gap of about $3 billion.
But, ask Johnson what the biggest problem facing the state legislature in the upcoming 2010 session is, and he'll say it's not just that billion-dollar deficit, but a lack of bipartisan politics in dealing with the budget crunch.
Johnson said conservatives were shut out of most budget proceedings last year, his first as a state representative.
He hopes that changes this year, because he plans on proposing new ways of slashing the budget deficit while pushing the Yakima Valley forward.
"I don't think taxes are the answer," Johnson said. "I think we've got dead weight in departments. I think there's other ways the budget can be cut without having to do it on the backs of the elderly and education."
Johnson said he and fellow 14th District Representative Charles Ross, along with State Senator Curtis King, have pre-filed a few bills aimed at combating Yakima County's gang problem.
Among those is a law that will allow police to seize gang houses or vehicles in the same manner police can seize drug houses.
Johnson said he will fight cuts to Basic Health, which provides insurance coverage to many lower-class Washingtonians and protest the closure of Ahtanum View Corrections Center, which Governor Christine Gregoire slated for the ax in her preliminary budget.
One local institution which didn't make it to Gregoire's chopping block is the Yakima Valley School. Johnson and other local reps fought hard to save it last year. He said they will keep a close eye on the school's future as well.