Online prostitution keeps police alert
Posted:
Updated: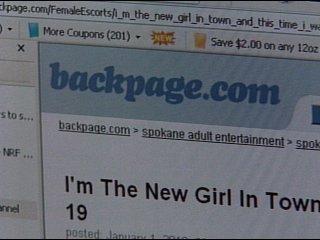 Prostitution is often considered the oldest profession, but police say new ways of prostitution have formed in recent years.
"Now with technology, you have these virtual communities where people gather and discuss trading sex for money," Kennewick Police Sergeant Ken Lattin said.
Craigslist used to have an erotica section but the site has since been taken down and is more closely monitored now; however, police say it's still a problem. It simply requires more creativity or even moving to a new place such as 'BackPage.com' where women often advertise "200 kisses per hour" which officers say is a nice disguise, though doesn't fool anyone.
"There are those sites out there which are engaging in criminal activity and that's what we're focused on," Lattin said.
The executive director of the Benton Franklin Substance Abuse Coalition says there is usually more to it than someone only looking for a good time along with obtaining some pocket money.
"They literally will prostitute themselves for getting some drugs they can use," Executive Director Peggy Haecker said.
Over the years she explains that she's seen an increase in the amount of people willing to put themselves out there for drugs.
"They're getting younger and younger, sometimes ten or eleven year's old and I just don't think they can handle it."
Police say even with more creativity covering up prostitution, officers will continue to look for it online and arrest offenders they catch.
--Hilary Whittier. If you have story ideas please email her at Hilary.Whittier@KNDU.com