INSIDE: Live streaming video
Officers gather at Tacoma Dome for slain deputy - Watch Live Now
TACOMA, Wash. - The memorial service has begun in the Tacoma Dome for slain Pierce County Deputy Kent Mundell.

His hearse was escorted from Puyallup this morning by a procession of police cars. The service is scheduled to last three hours.
Thousands of officers and members of the public headed to Tuesday's 1 p.m. service for Mundell, many lining up for a 10 a.m. procession from Puyallup.

Mundell was shot December 21 while responding to a domestic violence call near Eatonville where another deputy, Sgt. Nick Hausner, was wounded. Mundell returned fire and killed the attacker, David Crable, but was mortally wounded.

He was the sixth law officer killed in two months in Pierce County and Seattle.

The service for four Lakewood officers was held December 8 at the Tacoma Dome.
Previous Coverage below...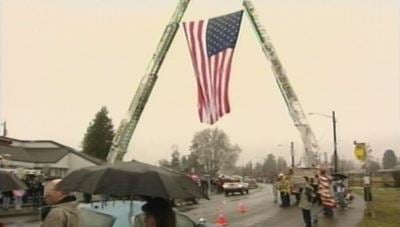 The procession for Deputy Kent Mundell takes cars under an American flag hanging from fire truck ladders. The procession for the four slain Lakewood officers also went under a flag that was displayed in the same manner.
Previous Coverage
Injured Pierce County deputy dies

(December 28, 2009)
One of the Pierce County sheriff's officers shot in an ambush by a drunken man has died after being taken off life support, a sheriff's spokesman said Monday evening. Deputy Kent Mundell suffered life-threatening injuries and had been hospitalized at Harborview Medical Center in Seattle since the shooting a week ago. He died at 5:04 p.m. with his family by his side, Detective Ed Troyer said.
The shootings of Mundell and Sgt. Nick Hausner marked the third time in less than eight weeks that police officers in Washington state had been shot in the line of duty. Hausner was released from the hospital on Christmas Eve.
David E. Crable, 35, shot the two officers on the night of Dec. 21 before he was killed in the subsequent shoot-out, police said. Crable had a history of domestic violence and "terrorizing" his family, Troyer added. The officers had gone to the home of Crable's brother near Eatonville, after family members called to have an intoxicated Crable removed.