Richland Basketball: It's in the Pants
Posted:
Updated: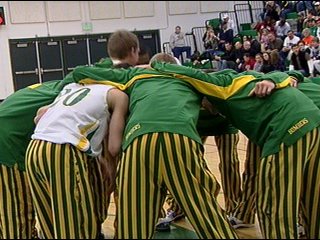 "I hear it from everybody... The crowd's yell at us... You know those are hideous. You know I kind of like it."
"I like them... Yeah... and we don't care what anybody else thinks."
If you've been to a Richland basketball this season there is a good chance you've seen these... The 1979 warm-ups worn by the state champion Richland Bombers. To this day they still wear the green and the gold. Maybe as a sign of good fortune... or better yet to make history just like them who wore these warm ups 30 years ago.
Senior Guard Colton McCargar said, "Richland always had a lot of tradition. That's why I've always dreamed of being a Richland basketball player. We have a lot fans and everyone dreams of becoming... 'and that's why the warm up unis haven't change either?' Yea.">
Coach though would have us believe the reason for Richland 8-0 start this season is due to hard work and discipline, and not the pants.
Head coach Earl Streufert said, "Like right behind me they're running right now so that's pretty good. You know if you don't make shots or do your job in practice and don't block out kind of thing. I mean the expectation level is there. I don't think they've become complacent.">
Especially inside with the presence of 6'6 Calvin Douglas, who creates problems for every opponent.
Douglas said, "It goes in slow motion when I know I'm getting a block. I see him just going right up... And I tell myself I'm about to get this. I'll put it right back in his face."
Between a strong inside game and perimeter shooting the bombers are built for success. Of course your only as good as you look.
Streufert said, "A lot of people have copied the stripes. I think the '79 state championship team were the first to wear them... They've looked good ever since."