Local legislators preparing for trip to Olympia
Posted:
Updated: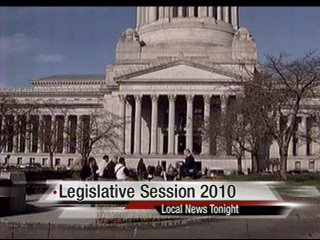 KENNEWICK, Wash-- As legislators gear up for next week's trip to Olympia, their goal will be to tackle a $2.6 billion budget deficit.
When asked the biggest issue affecting Tri-Citians, Representative Larry Haler replied, "I think the budget and trying to preserve our money for levy equalization."
Levy equalization was a last-minute save from 2009's legislative session. This year it's back on the table.
"When you take a look at taking say $1 million from the small school districts, it's devastating," he says.
There are rumblings school districts could be combined, but Haler says the landscape doesn't lend itself to that possibility.
"The western Washington legislators don't understand the vast distances that we go from school district to school district on this side of the state."
For Haler's partner Brad Klippert, it was the emotional funeral for the sixth officer killed in Washington in the last two months that has him speaking out.

"We can't balance this budget on the back of public safety," he explains. "There's been cutbacks in the Department of Corrections and public safety. That needs to stop. We need to fully fund public safety."
What issues do you want our legislators to tackle? Let us know by leaving a comment below.
--This story was done by Adam Harding. If you have any story ideas, e-mail him at Adam.Harding@kndu.com