Hannah Moon Finds New Joy in a New Sport
Posted:
Updated: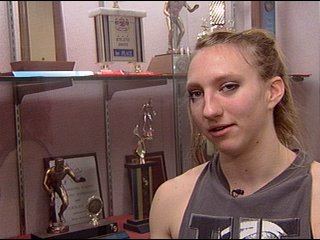 KENNEWICK, Wash. -- Many times something that seems like the worst turns out to have a silver lining. In the case of Hannah Moon, that theory proved to be true.
Hannah Moon's love has always been basketball. It is the place she feels the most at ease. It is a place that she could no longer find comfort in after not making the Kennewick girl's varsity team this season.
"It's been really hard because that was so much apart of my life," said Moon. "My Dad always told me to find my passion in something and go with it with all your heart. I finally found my passion in basketball and I went with it with all my heart. I practiced everyday for about two hours. It didn't turn out the way it was supposed to, or at least the way I wished it would."
After learning she was not going to be playing varsity basketball, Hannah decided to give up the hardwood and hit the wrestling mat.
"When I first started I only wanted to practice with my Dad," said Moon. "I was just too scared to be in the room with the boys. I was intimidated by them."
Her father, Tim Moon, won a state wrestling title when he was in high school and is the coach at Kennewick. After overcoming her fears to make the wrestling team, the junior at Kennewick is now 10-0, including 9 pins, all coming against other girl wrestlers.
"My Dad told me to believe you can win the match. And so I believe I can win it," said Moon.
Finding success on the mat allows Hannah to let go of the pain of leaving the hardwood.
"I believe that through tragedy God has shown me something better," said Moon. "I'm finally going to where I should be."