Yakima barista faces indecent exposure charges
Posted:
Updated: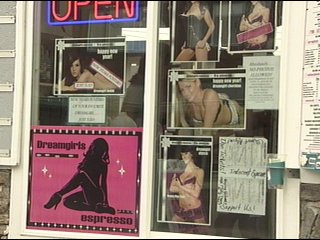 YAKIMA, Wash.- Some stands are known for their coffee, many in Yakima, are known for their baristas and the outfits they wear.
Police say Dream Girls barista Alyssa Hernandez crossed the line, wearing an exposed thong to work, to the blurred-out picture KNDO found on the espresso stand's MySpace page.
Hernandez covered up in court Friday morning where she faced indecent exposure charges. Her boss says authorities are over-reacting.
"We are shocked that Yakima Police have chosen to focus on this issue instead of more important issues in the community," said Cheryl Clark, owner of Dream Girls.
While the baristas are shocked, many community members aren't. The controversy comes down to what you can see inside of your car. While the owner says you can't see much, some people say you see too much.
"A g-string, pasties and a fishnet body suit," said a Yakima Resident.
Dream Girls isn't alone. Witnesses say all these so-called "bikini barista stands" are out of line.
"Bending over, sticking their behind up with their crotch showing and bouncing it up and down and ringing a bell towards the men, towards the public," said another resident.
The problem? Parents say their children are exposed to this without ever going there.
"It's not right. I don't want my daughter to think its okay to have a job like that," said a Yakima resident.
Baristas and owners say they follow the laws and don't step out of their stands wearing inappropriate clothing, but a group of Yakima residents aren't so sure. They gave KNDO a copy of their video. They are going around, trying to catch the indecent exposure.
"There needs to be more control, they gave them an inch and they took a mile>
The group plans to take this issue to council and force these girls to cover up.
The group is working on launching a website with the video, we'll keep you updated on it.
Hernandez and the owner of Dream Girls will be in court for their next appearance in Late February.