Vision therapy helps people of all ages
Posted:
Updated: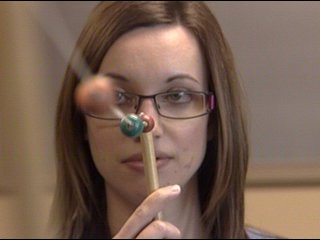 RICHLAND, Wash-- Vision therapy is helping people of all ages.
"From him expressing that he felt like his brains was stupid and he just didn't want anything to do with any academic task, to now be willing to sit down and do those things, and actually do them for fun--it's just amazing," says Amy Clements, mother.
For her, it was a challenge to get her 5-year-old son to buckle down in the classroom. That's when she brought him to Heaston and Thompson Vision Clinic in Richland for some vision therapy.
"Vision therapy is basically just re-training signals from eyes to brain to be more efficient," explains Dr. Karen Heaston.
Eye doctors here say most learning should be absorbed through the eyes--almost 80-percent of it.
"If it's not, you're using one of your other sense to get that information in," Dr. Heaston says. "It's not going to be as efficient."
And that's when doctors see the tell-tale signs.
"Am I losing my spot on the page? Am I skipping lines? Am I reversing things? When I read, is my whole head moving versus it should just be eyes moving."
Through intense training, doctors can help get you back on track. Sometimes it's through fun activities, and maybe even some silly ones. But all said, they say it gets the job done.
If you'd like more information on vision therapy, check out the Heaston & Thompson Vision Center online at: www.visionsource-htvc.com
This story was filed by Adam Harding. If you have any story ideas, e-mail him at Adam.Harding@kndu.com