Local bed and breakfast voted the "Best in the West"
Posted:
Updated: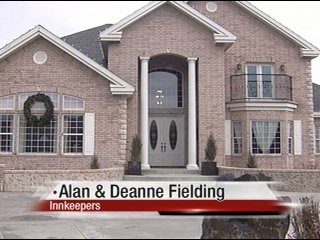 Touchet, WASH - Valentines day is a few weeks away and you may be planning a weekend getaway. How would you like to stay in a bed and breakfast that is receiving national recognition for being the best in the west? It's only 20 minutes out of the Tri-Cities near Touchet.
Heading out towards Touchet along highway 12 all you can see is a few tumbleweeds and hills. How could there be a luxury mansion out there?
Once you pull off the highway between mile marker 312 and 313 and head into the valley for a mile you'll spot it. It's a the Cameo Heights Mansion surrounded by a 400 acre orchard and vineyard.
The innkeepers, Alan and Deanne Fielding, bought the land several years ago to become growers, but then decided they wanted to move there with their family.
"Originally when we started out it was going to be our family home, but then finances became tight and the project was brought to a halt and we never looked at the home again for about 10 years," explains Alan.
It wasn't till their kids grew up and moved away they had the idea to make a bed and breakfast out of the unfinished home.
"We investigated doing a bed and breakfast. We have a flare for entertaining and my wife is a wonderful cook and hostess. We had a beautiful place that would potentially be a wonderful retreat for couples," says Alan.
After redesigning the plans they opened up the mansion two years ago. Couples can choose to stay in seven different suites that are internationally themed. They will also enjoy a theatre room down stairs and the pool and hot tub outside.
It was the amenities at the mansion and the pampering that led to their "Best in the West" award from BedandBreakfast.com.
The notice came in the mail and caught the Fieldings by surprise.
"Well first I had to make sure my wife didn't throw it away because it could've been junk mail! Then I started reading it and said wait a minute let me read this thing again, this is significant! Then we got on the web site and was like wow we are on there!," explains the Fieldings.
Alan and Deanne say despite a down economy they continue to grow and plan on having guests at the Cameo Heights Mansion for years to come.