Legislators and law enforcement push for criminal gang bills
Posted:
Updated: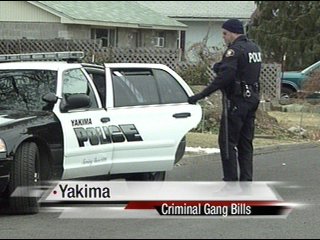 YAKIMA, Wash. - Police say they don't have the tools to fight gangs that current laws are too weak, which is why local Representatives Norm Johnson and Charles Ross are backing several criminal gang bills.
"The gang problem has not gotten better in the last two year since they've looked at this issue and in fact, if anything, they've gotten more organized and it's gotten worse," said Chief Sam Granato, Yakima Police Department.
The first, is House Bill 2413, it would allow police to seize property used in criminal gang activity and it can be sold to help fund law enforcement.
"What it does is put the risk of property loss on the table where currently that's only dealt with in drug seizure laws," said Rep. Charles Ross, (R) 14th District.
"Through drug forfeiture we are able to buy cars, buy equipment to combat the drug activity," said Granato.
House Bill 2414 would classify criminal gang activity as a nuisance so neighbors of gang houses would be able to file legal action to stop gang activity.
Ross says some of the bills will be easier to gain support for than others, but even if they don't pass it's a step in a positive direction.
"You know, what we're trying to do is create a bigger dialogue about gang violence and what are the many different avenues we can use to go into the community and make it safer and this is just one of many," said Ross.
Granato is heading to Olympia for the hearing on these criminal gang bills, it's a public hearing slated for Thursday.