Response to Intervention (RTI) Program at Highlands Middle School
Posted:
Updated: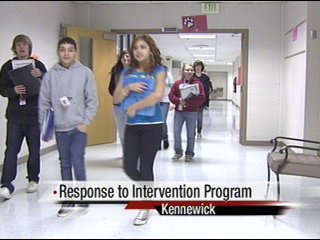 KENNEWICK, Wash.-- A new program at Highlands Middle School in Kennewick is giving struggling students a chance to improve their grades and do their homework within the school day, while students with good grades get to take a fun course. It's called Response to Intervention, or RTI. This school year is the first year Highlands has tried the program.
Scott Parker, Principal at Highlands, explains, "During 3rd hour, every student who needs an intervention can get an intervention. So if a student needs some intensive reading help, they can go to a reading lab class."
Orlando Laguna, a 6th grader, has had trouble keeping up in math, so he goes to Mr. Brager's class during third hour. He says, "I mostly get help with my math problems: decimals, rounding, factors, and multiples. It helps me a lot with my grades, boosts it up, and it's actually helping me out a lot."
Mr. Brager says his 3rd hour class is "for kids who are just at the edge of meeting the standards, so we're working on those basic math skills and it's self paced." He also says it allows him to meet one-on-one with students and give them more individualized attention.
Students who are passing all their classes get rewarded with fun courses, like choir or physical education. Those courses also act as incentive for some students to keep up the good grades. Rhiannon Rogers is in choir during 3rd hour, and she says, "I like choir and so I like to get all my stuff done because I'm eager to see all my friends."
The principal says even in it's first year, RTI is making a difference. He says first quarter last year, there were 600 Fs, but now, with RTI in place this year, that number is down to around 200.