Yakima charities help families devastated by Haiti earthquake
Posted:
Updated: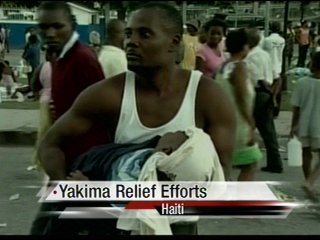 YAKIMA, Wash.- Yakima organizations are collecting money to help the millions of families in Haiti devastated by an earthquake.
An earthquake with a magnitude of 7.0 hit Haiti Tuesday, leaving kids hungry, families on the streets and people missing and injured. To help, Yakima organizations are trying to raise money. So far, Yakima Red Cross employees say people are giving.
"He doesn't want any recognition, he doesn't want a receipt. He just wants to know this money is going to the relief effort and this is why this community is so amazing, one hundred dollars," said Lisa Reinhart, the director of the Yakima Chapter of the Red Cross.
The Catholic Diocese of Yakima is also taking donations. For Hurricane Katrina and the tsunami in Southeast Asia, the diocese raised over $200,000. Now, they're hoping to make a similar impact in Haiti.
"At times like this people step up regardless of the economic situation and decide to participate and care in a way that's meaningful and tangible," said John Young with the Catholic Diocese of Yakima.
The video shows what people are going through. Yakima organizers say they want people to know, any contribution can make a difference in these people's lives.
"Two dollars adds up, every little bit helps, it's already a poor country," said Reinhart.
Both organizations are sending the money collected to their international offices, which are responding in Haiti. The money collected is used for whatever is needed like shelter, medical assistance, water and food.
To donate in person, you can go to the Yakima Red Cross chapter located at 302 south 22nd street in Yakima.
To donate online, you can go to www.yakimaredcross.org or to www.crs.org to donate with the Catholic Relief Services or call 800-736-3467.
Employees from The Better Business Bureau say there are many scams created to take advantage of consumers. The BBB suggests researching and evaluating a charity before you donate. This can be done at www.bbb.org/charity . They also suggest finding out whether or not the charity is directly responding to the disaster, if not, they suggest finding an organization that does.