Alex Deccio keeps close eye on legislative session
Posted:
Updated: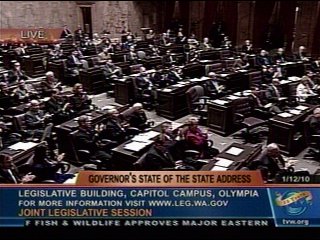 YAKIMA--As the state legislature begins what's sure to be a difficult session, one former lawmaker is keeping a close eye on what's happening. KNDO sat down with Yakima's Alex Deccio for an exclusive interview.
Despite a nasty bout with pneumonia in December, Alex Deccio looks good and still moves well for his 88 years.
He'll be the first to tell you, he's not well enough to consider a return trip to the Capitol Building in Olympia.
"As I see this session, it's probably one that I wouldn't want to go back to if I could because it's going to be very difficult," the longtime state Senator said.
After more than 30 years in public office, Deccio hasn't been able to quit politics cold turkey.
He may not have the inside scoop anymore, but he's still got his opinions.
For example, he hopes the legislature won't rely too heavily on one-time funding fixes, like federal dollars or state reserve funds, to solve the gaping budget hole.
"This [recession] is going to be over someday, but it's going to come again," Deccio said. "I think rainy day and reserve funds are extremely important."
While the Republican doesn't necessarily agree with raising taxes, he understands where Gov. Chris Gregoire is coming from.
"They [the state legislature] already made some drastic reductions and [will have to] make some more this year," he said. "I think it's inevitable that the Governor's going to have to recommend some sort of tax increase."
He believes any tax legislation should come with an ending date, so taking more money from the state's regular people is a last resort, not a regular habit.
Deccio's ran several campaigns for Yakima City Council members.
Health willing, he plans to remain involved in local politics.