Job seekers facing crowded market
Posted:
Updated: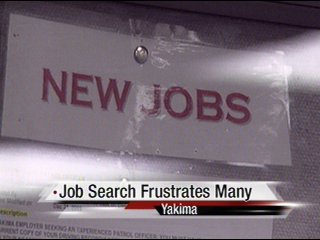 YAKIMA--What's got to give in Yakima County to get people jobs and get them off unemployment?
In 2009, people in Yakima County got more than $94 million through unemployment benefits.
Washington state shelled out $4 billion in benefits in '09, five times as much money as in 2007.
Jerry Burgess and Jamar Carson are at opposite ends of their working lives.
Carson, 19, has been a member of the work force for only three years, while the 64-year-old Burgess figures he only has a few years to go until he can retire.
There is one glaring similarity between the two: they can't find steady work.
"I'll take anything," Carson said. "A paying job; money to look to every week or every two weeks. That's what I'm looking for."
"There's not really [anything out there]," Burgess said. "Sometimes I'll see a job listed and I hope they'll give me an interview. I go out and maybe get an interview, maybe not. It all depends."
Another trait the two share, along with others here at Worksource: no specific skills.
That makes the search a tougher task.
"With my age and stuff it's hard to get a job because nobody wants to hire me they think I'm too old."
So, how do we fix this and get people back to work? KNDO asked New Vision Yakima County Development's Dave McFadden.
"I think we're doing the things that are really important to the future growth of this community," McFadden said. "If we can keep a watch on the health and aptitude of our work force, the state of our public facilities or infrastructure, our regulatory climate."
New Vision tries to entice new businesses here and encourage successful enterprises to expand.
Right now, a lot of potential lies in Union Gap.
Come spring, construction will start on the Union Gap Promenade. Developers are building a shopping center across from Longfibre Road. Winco Foods is already lined up to anchor the center, which is designed to house several others retailers as well.
Couple that with several new businesses headed to the Valley Mall and growth seems possible.
The Promenade won't be finished until about August though.
To Burgess and Carson, that's too far to even think about.
"I get two steps ahead and then I get knocked three steps back," Carson said.
Unemployment rates in Yakima County were a disappointing 9.6 percent last month.
McFadden believes the county is primed for economic growth if the tide can turn on a state and national level.
Until then, he advises job seekers to work on improving their skills and just being patient.