CBC Basketball: Finally Back Home
Posted:
Updated: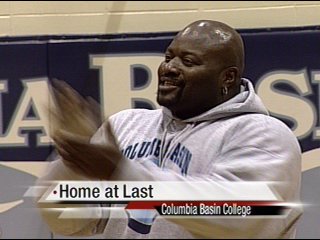 PASCO, Wash. -- Life on the road: That's all CBC Men's Basketball has known since Opening Day back on November 21st.
Playing 13 road games across the Northwest: stops that included Lakewood, Washington and then South to Portland, Oregon. But, finally the Hawks are returning home.
Finally, no more long hours on the road. That extended road trip is done. However, it may be enough reason to change the name on the jersey from Hawks to something else.
"We could be the Road Warriors," said Hawks Captain Drew Church. "They could rename us that right now because we've played one home game."
"I've got to get ahead of the guy who schedules these games, and make sure we don't do this again next year," said Head Coach Lane Schumacher.
Coach Schumacher would like a more balanced schedule for next season. His team is 3-10 on the road. To make matters worse, Drew Church is the only returnee. So, the fresh faces have not had time to really become familiar with their surroundings.
"You get out of your routine," said Schumacher. "That's what's nice about playing at home. You're staying in your own bed, you're going to class. You have the same practice schedule, same gym. When you get on the road, you're staying in hotels and eat in different restaurants and your schedule is thrown off."
CBC finally returns home Saturday against Blue Mountain and the Hawks are ready to bounce back from losing 7 of their last 8.
"I mean we're good shooters in our gym," said Church. "And we've only had one chance to show it. It was our first game. We had the jitters. I think we are going to put on a pretty good show for the Hawk fans if they come out and watch us."