Kennewick man dies from 500-pound pallet; Con-way releases statement
Posted:
Updated: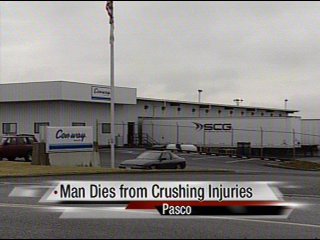 PASCO, Wash -- The Department of Labor and Industries is investigating the death of a Kennewick man who died after a 500-pound pallet fell on his chest Friday.
At this point there are still numerous questions to be answered. Sunday we talked to a representative at the Franklin County Coroner's office. An autopsy performed yesterday shows 43 year-old Randall Johnston died from crushing injuries to the chest. The deputy coroner says his body was found at Con-way Freight in Pasco and the Department of Labor and Industries will continue investigating the case.
We also talked with Randall's family. They say he was a freight operations supervisor for the company for about a year and a half. He was a beloved family man and a wonderful husband to his wife of about 10-year's.
"Our family is in deep shock and disbelief," his brother-in-law Steven Pugh said. "We're still coming to terms with the tragic accident involving Randy. He was well known and respected. He was a life long Tri-Cities resident and made and kept friends wherever he went. He was a dedicated husband who put family first and foremost."
A statement from Con-way Freight was released Monday.
Part of it reads:
"This was a tragic, unfortunate accident. Mr. Johnston was a well-respected employee, admired by his fellow workers as a positive influence and a caring individual. We extend our heartfelt sympathies and condolences to the Johnston family and we share in the pain of their loss. The company is providing local employees with on-site counselors to help them cope with the incident and the loss of their fellow employee."