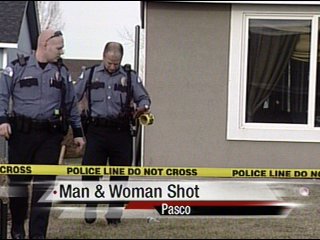 PASCO, Wash. -- Two people are now recovering after shots are fired in front of a Pasco home. Police say the shooting happened around 12:45pm today on Alvina Street.
They say two victims; a 20-year old female and a 34-year old male were shot, one in the side, and the other in the leg. The shooter, identified as 22-year-old Saul Guzman, was taken into custody.
The man living at the house has been a victim of a shooting before. His brother says he was shot more than a decade ago. It left him paralyzed, and in a wheelchair.
Police say domestic disputes are something they deal with frequently, but one resulting in several gunshot wounds, especially to a man paralyzed from a gunshot injury earlier in life, makes this case unusual.
Police are still investigating.
--Hilary Whittier. If you have story ideas please email her at Hilary.Whittier@KNDU.com