Church group heading to Haiti to provide medical aid
Posted:
Updated: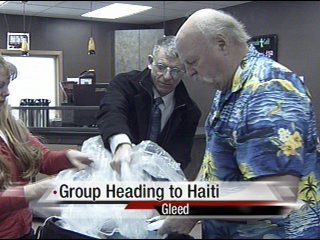 GLEED--As Haiti is hit by another aftershock, a church group made up primarily of doctors and nurses prepare to leave the Yakima Valley and help survivors of the catastrophic earthquake.
For the past eight years, members of Memorial Bible Church have gone to the Dominican Republic to help people with much less than they have.
As this year's group prepared to set off, disaster hit.
"When the earthquake hit, we were just feeling a passion to help," Jan Brazeau, a registered nurse at Yakima Valley Memorial Hospital and leader of the MBC group, said. "We wanted to go and be there [right away.]"
Plans changed quickly. The church's group of 19 first grew, adding a doctor and three nurses, then split in half. Some people stuck to the original plan and working in the Dominican Republic. The rest will go to Jimani, a border town overflowing with Haitian refugees.
There, they will work at the Good Samaritan Hospital, providing medical aid to people who couldn't find it in Port-au-Prince.
The volunteers are ready for anything.
"The situation in Haiti is very fluid right now," Pastor Brian Taylor, making his first mission trip to the Caribbean, said. "One of the things we've communicated amongst our team is that we need to be fluid and need to adjust on the fly."
Thursday, church members packed and prepared for what's sure to be a draining trip.
"I'm not afraid [to go to Haiti], but I lay in bed and imagine what I'm going to see and experience," Brazeau said. "It's hard to go to sleep."
Memorial Bible Church couldn't make the journey on their own. At Regional Hospital, nurses put together bags filled with sutures, gauze, gowns and plenty of other things the group will need on their trip.
The Memorial Bible Church members say they've received thousands of dollars worth of donations and supplies since the earthquake. They plan to put it to good use.
"We're on a mission much bigger than we could ever orchestrate," Taylor said. "God has put us here at this time and place for a time such as this, and we're simply going to serve in whatever capacity we can."
Memorial Bible Church is still asking for donations, both for supplies and travel.
If you're interested in helping, you can do so by taking donations to Memorial Bible Church at 111 Old Stage Way, Yakima, WA 98908, or you can give directly to their mission sponsor, Score International, at the following web site.
https://scoreinternational.org/give/