Many turn to adoption to help with Haiti earthquake
Posted:
Updated: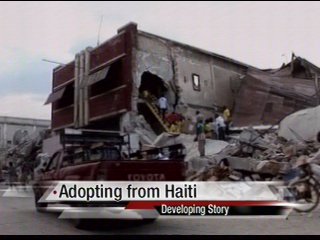 KENNEWICK, Wash-- A number of you are turning to adoption to help in the aftermath of Haiti's earthquake.
Unfortunately, adoption might be a little hard right now. One adoption information agency says the majority of kids coming out of Haiti are ones that were already close to adoption before the earthquake. Right now, it is still chaotic there, and there's no timetable for the others.
It could be a while, given some kids are just learning they're without families. Thursday we met with two women; one who has adopted a little girl, and another hoping to be a new mom.
"On a good schedule, we got her home in two years," says April Connors, who adopted a little girl last year. "On today's schedule, if they do re-open adoptions, hopefully they'll expedite it."
"It's hard to hear when there are children out there who don't have a home, that have no mother, father, no one there to love them, no one there to put a roof over their head, keep them safe," explains Jennifer Martinez, who is looking to adopt a child from Haiti.

The orphanage where Connors got her little girl just sent a group of kids to the US, they landed in Florida Thursday.
For more information on the non-profit April works with, or if you want to help donate to them, check them out online at: www.chances4children.org.
--This story was filed by Adam Harding. Have a story idea? E-mail him at Adam.Harding@kndu.com