Non-profits in need of donations to help Haiti
Posted:
Updated: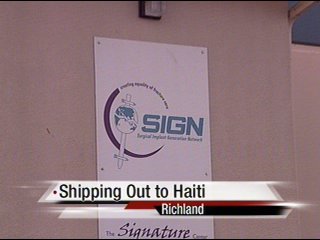 RICHLAND, Wash-- The past week at SIGN has been busy. From boxing up medical equipment to getting it ready to ship out to Haiti for Doctor Zirkle and his medical team.
"The difficulty we have at this point is re-supplying them," Doug Donnelly with SIGN says. "They were only able to carry in so much in terms of medical supplies, medical instruments."
That's where donations come into to play.
"Just to give you an idea of what it takes, these 6 pallets which are packed with no air space, are going to cost us $16,000 to get it into Port-au-Prince," he says.
Meanwhile in Kennewick, April Connors is gearing up to help out Haitian orphans.
"I am getting ready to depart on Sunday to go to Fort Lauderdale, then to Miami, to fill a cargo plane for 'Chances 4 Children,'" she says.
Another non-profit working at ground zero, also in desperate need of donations.
"What we're looking for right now is donations to help fill the airplane," Connors says. "We're going to be purchasing at least 8,000 pounds of supplies over there, mostly formula food, bleach, diapers--all the things they're in desperate need of at the orphanage."
If you want to help donate to SIGN, you can check out their website at www.SIGN-Post.org
To donate to Chances 4 Children, you can check out their website at www.chances4children.org.
--This story was filed by Adam Harding. Have a story idea? E-mail him at Adam.Harding@kndu.com

their help...now in your hands.