Born to Lead: The Nikolas Hernadez Story
Posted:
Updated: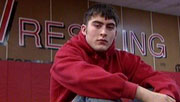 (Photo: KNDU)
His greatest achievements take place off the mat. Nikolas Hernadez is a high school wrestler out of East Valley comes from a family of community leaders. His father a long time coach, and his mother organizes charity events. I had a chance to learn more about this leader in the making.

From the very beginning Nikolas Hernadez showed leadership qualities.
GEAR UP site coordinator Luis Cordero said, "He's able to communicate what needs to be done and what order it needs to be done in, and how timely it needs to be done as well too. And those are the qualities that I saw early in Nik."
Since becoming a high schooler at East Valley, Nikolas has done more than wrestle and play football. He's organized blood drives, charity events, and attended a youth leadership conference. In fact, thirty of his fellow peers across the U-S met in San Francisco a year ago to discuss how to improve the high school learning environment.
Nikolas Hernadez said, "If you kind of have an environment where nobody really cares... Then you... Yourself aren't going to be normally driven to care about your work and go those extra steps to do that."
The program sponsoring the trip is called gear up. The Junior class president believes in its mission in helping other students find the right path for their future.

He said, "But if you have somebody to turn to for help... Or somebody willing to give you advice or something... It makes it that much easier for you to achieve your goal."

The Stanford hopeful believes sports is a great avenue to learning how to achieve goals in a team environment.
Hernadez said, "You get that closeness. It's kind of like family, and your brothers with the other people. At the same time you get that much more, with that whole sideline rooting for you."