The Warriors in Pink battle on and off the court
Posted:
Updated: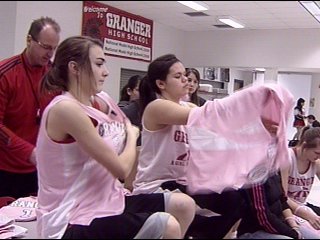 GRANGER, Wash. - The Granger girls basketball team has fought hard to be ranked number one, but it's a battle off the court that drives them.
Jessica Ornelas has managed since eighth grade, but at barely 18 years old her life took a 360 degree turn, she'd developed a hard lump in her abdomen. Rumors flew that she was pregnant.
"So the cat scan revealed that I had a 30 centimeter mass inside my abdomen and it wasn't good, it didn't look good, everything just happened really fast," said Jessica.
Within a week Jessica was on the operating table, she had "dysgerminoma" a germ cell cancer growing in her left ovary.
Jessica's cancer, ovarian occurs in one in 75 women according to the American Cancer Society. Cancer is the second most common disease in the US, exceeded only by heart disease. And cancer accounts for one of every four deaths, which why the Granger girls basketball team is determined to not only beat their rivals, but also cancer.
They're the first team in the state to wear all pink uniforms in honor of cancer awareness. On the back "BEAT CANCER" is written above the number.
"Our grandpa passed away with cancer and our aunt a few years before that with breast cancer so it actually means a lot for us," said Sam Zapien, Spartan player.
As a fundraiser each time the girls score fans donate to cancer research. Meanwhile, Jessica keeps the team in line, making sure everyone has water, even helping girls tie the drawstring in their shorts.

Jessica continues with her chemotherapy treatments and on the bad days she thinks of her team.
"It helps me to see them like come to practice and really try, that just motivates me to wanna get up everyday and be with them and come to every game, every practice," said Jessica.
The Spartans are debuting the pink jerseys at the home game against Zillah, they hope to intimidate their cross town rivals as the Warriors in Pink.