Yakima makes changes to school zone active times
Posted:
Updated: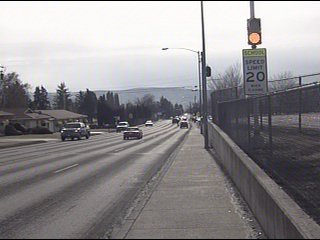 YAKIMA--In November, we showed you the lights for some school zone traffic areas in Yakima weren't working.
KNDO checked the school zones around Franklin Middle School on Tieton Drive several times over the past few weeks and found the Yakima School District and the city's Streets Department have made some adjustments.
In November, KNDO found the lights indicating an active school zone did not come on until 40 minutes after school let out.
When we investigated this month, the lights came on at 2:40 p.m., ten minutes after school ends.
The school zone signs surrounding the middle school indicating a 20-mile per hour speed limit were also up. Carl Easter, purchasing coordinator for the Yakima School District, said the flags were not up because the employee in charge of the student patrol program was off when KNDO did the initial story. Since then, Easter said policies have been revised to ensure the flags are put up, no matter who is working that day.
According to Easter, the city's streets department prefers there be a student patrolling while the school zone lights are on, but the school district disagreed.
"For the kids that are walking along Tieton [Drive], we have decided to go ahead and turn those lights on for about a ten to fifteen minute time frame," Easter said.
Another road with a decreased speed limit, 40th Avenue near Eisenhower High School during lunch time.
Often during the noon hour, there are many kids walking around, some crossing the street where there's no crosswalk.
District leaders think this change will make heading off campus for lunch safer for their students.