Yakima drivers concerned about aggressive panhandlers
Posted:
Updated: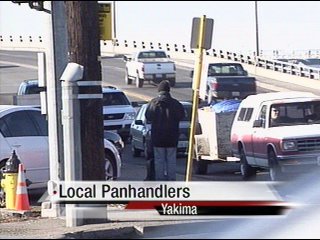 YAKIMA, Wash.- Drivers are speaking up against people on the side of the road asking for money.
Anyone driving down Nob Hill Avenue will see them, people begging for money at almost all hours of the day. When KNDO showed up with a camera, most moved away, but we did catch some of their activities on camera.
"He was going up to people asking for money, its sad that they follow you everywhere you go," said Marlys Kerr, a concerned driver.
While panhandlers didn't seem to be harming anyone or walking out onto traffic, it's not unheard of to see some aggression.
"One guy goes around cleaning windows and if you deny him he gets irate. I've seen him get kicked out before," said Eric Wilhelm, a concerned driver.
Aside from aggression, drivers say the signs and claims people on the streets are making are equally concerning.
"I think these panhandlers are professionals, they have cell phones, nice clothing and good shoes," said Ruth Bernard, a concerned driver.
"One guy looked stronger than me, so he could be getting a job," said Wilhelm.
Some drivers admit to giving money at least once but many are tired of seeing the same people standing on Yakima streets.
"One woman says she's homeless and pregnant, she's been pregnant for three years now things like that," said Wilhelm.
"Her sign said husband cant work then another homeless guy came up asked her for five dollars and out of the little she had, she gave him some," said Kerr.
The Yakima City Council discussed panhandling at last Tuesday's meeting and agreed they will look into what can be done.