Senate Bill 6396 aims to ban the sale of "assault weapons"
Posted:
Updated: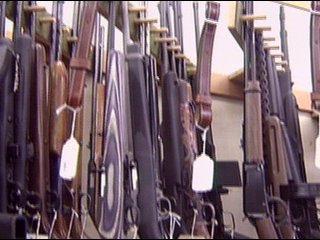 YAKIMA, Wash. -- It's always a loaded question, gun control or the right to bear arms? Senate Bill 6396 would ban the sale of "assault weapons."
"It basically goes back to the Clinton ban, the same thing, where anything that can except more than 10 rounds we would not be able to sell anymore," said Dianne Mabry, manager, Bestway Pawn Mart.
For many gun rights activists the right to bear arms is simple, black and white, but for others there are shades of gray when it comes to gun control.
"I don't think that automatic weapons should be allowed whatsoever, only for like the military police and so forth, but for your personal use there's no reason to have an automatic weapon at all," said Arthur Bunger, Yakima resident.
For Mabry the problem lies in how the bill defines "assault weapons." The bill restricts far more than automatic weapons (which are already banned). If passed Mabry said it could effect her sales by up to 80%. That's because the bill also restricts semi-automatic weapons and guns capable of excepting detachable ammunition magazines. So, even a small caliber hunting riffle could be included in the "assault weapon" definition.
"I think we have enough laws on the books that if we prosecute the people that did use guns in crimes that we wouldn't have the problem," said Roy Robeck, Yakima resident.
The hearing for Senate Bill 6396 is scheduled for Tuesday, there are groups that support it, but also plenty of opposition. Diane said the debate over gun control is never ending.
"In one way or another it comes back, in some sort of form. This is a short session so it may not happen now, but it will be back," said Mabry.
According to both YPD and the sheriff's office "assault weapons" are generally not the types of guns used in local gun crimes. Most of the guns used in crimes are stolen from home burglaries. So, police suggest gun owners store their guns in a safe or another option is storing your guns at places like Bestway Pawn Mart when you're going out of town.