Granger Basketball: Nothing Short of Perfection
Posted:
Updated: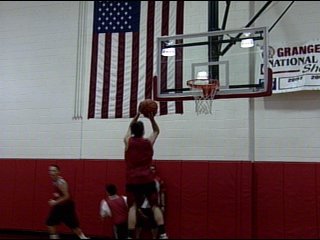 Every team wants to win every game, but few teams get it done. Both the boys and girls Granger basketball teams are one of those teams that so far ... Has always finished on top.
There's something perfect about Granger basketball.
Girl's basketball senior captain Samantha Zapien said, "Oh yeah I think it's a pretty special thing."
Boy's basketball senior captain Julio Cortez added, "It like scares me. Because I want to finish my senior year being undefeated and all."
Both the boy's and girl's have to yet to face defeat this season. Each 13-0. Earning the ladies a number one ranking in state, while the boy's sit at number three in 1-A.


Zapien said, "We're all pretty much embracing that. Both of us are undefeated. Kind of like a celebration of everybody."
So I came to granger on a mission. To find out what brings out perfection in these two teams. Could it be the coaches? The players? Or maybe is it in the water? Thanks Brandon. Tastes of perfection.
The two squads differ in philosophy. On the boy's side, its about staying loose.

Boy's head coach Miguel Bazaldua said, "As far as focus I think the girls have it. Our guy's... You look at them... They're about as focused as prom night... Yeah... Ha Ha Ha."
The girl's meanwhile have a secret ingredient.

Senior captain Janae Klarich said, "We all smell the same. Yeah we carry a tool box. It's striped red and white, and it has anything that we need in it. Like deodorant, to band aides to gum to anything like that."
No matter the smell or approach, each Spartan at the mid way point can hang their hat on perfection, while chasing the same dream. A state title.