Close call at school shows need for on campus officers
Posted:
Updated: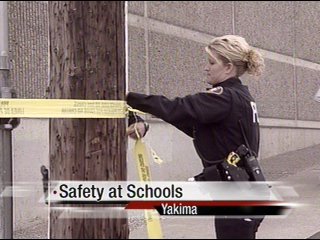 YAKIMA, Wash.- The Yakima School District is facing $5 million in budget cuts, which could affect campus safety.
Arrests near Stanton Academy after a fight broke out, then a Davis student is arrested and expelled for having a gun on campus.
"Finding a weapon in a backpack is not routine, not normal and that why is so nice that we had a school resource officer there that day," said Mary Beth Wright from the Yakima School District.
School Resource Officers patrol campuses. School leaders believe just their presence on school grounds keeps students from breaking the rules and getting violent. Officers are right there on the scene if something does happen.
But with millions of dollars less this year, district leaders are unsure whether these positions will be cut.
"We won't know. When you have $5 million to cut everything is on the table," said Wright.
As for parents, students and neighbors, they experience the lock downs and violent threats first hand. They believe safety should be a top priority.
"I can't imagine any parent wouldn't be concerned about student safety at the public schools," said Melissa Gray, a parent.
"A primary concern in our school district, you can't learn if there's not safety. I'd hope they could find another way to cut budgets," said Isaac Johnson, a parent.
Mary Beth Wright says they'll keep the four school resource officers through the end of the year, after that, it all depends on the budget.
School is only in session 180 days of the year which is why district leaders are asking the City of Yakima to help pay for some of the officer's hours. They are waiting to hear back.